Sri Lanka's Killing Fields - October 2011 Report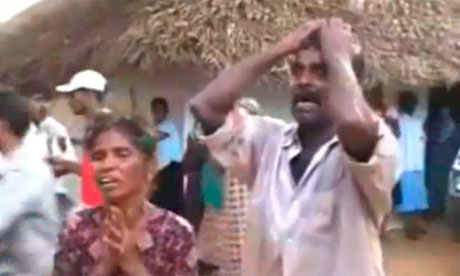 Image courtesy: http://www.guardian.co.uk
All anecdotal accounts from India talk about the horrible human right violations on the Sri Lankan Tamilians. The Sri Lankan tamilians were first treated horribly by Government of Sri Lanka, then by their own 'movements' that championed their cause to only let them down in the long run. LTTE systematically obliterated other Tamil groups first, and positioned itself as the sole savior.
Meanwhile,
Channel 4's Sri Lanka documentary cleared by Ofcom.
Dorothy Byrne of Channel 4 complains about the PR lobbying by Sri Lankan government and others:
Sri Lanka's Killing Fields, which was broadcast in June and featured graphic footage of alleged war crimes, faced a demonstration outside Channel 4's London headquarters – which she claimed had been organised by the Sri Lankan ministry of defence.
Flash back to the 80s and 90s....
The Dravidian parties of Tamil Nadu saw a tremendous opportunity to sway the emotions of tamilians in Tamil Nadu to get votes. Vaasanthi in her book "Cut-outs, Caste and Cine Stars" quotes Karunanidhi:
If the Center can support the Palestinian struggle for a homeland , why does it not back the movement for a Tamil Elam?
As the Dravidian parties vied for attention by spreading awareness of the Sri Lankan tamilians conditions and demanded that India do something about it, the leaders in New Delhi were worried as it eerily reminded them about the demand for 'Dravida Nadu'. MGR for his part offered patronage but was opposed to Tamil Elam and any armed support. During the IPKF operations in Sri Lanka, many of the Tamil Nadu politicians complained about the Indian Army 'excesses'.
For their part the Tamilians of Tamil Nadu, initially had sympathy towards the Sri Lankan Tamilians, but as LTTE decimated the other tamil groups and violence along the coastal regions of Tamil Nadu increased because of bomb blasts, looting and fratricidal war between Tamil Groups, the Tamilians in Tamil Nadu began to distance themselves with the thought "I am Indian, only next a tamilian".
Tamil Nadu, its people and prominent leaders turned against Sri Lankan Tamils after LTTE assasinate Rajiv Gandhi. Karunanidhi sobs to Vaasanthi and she writes in her book:
I trusted them, amma. We were all genuinely moved by the Tamil's plight. These boys [Pirabakaran and his associates] looked so innocent and gentle in their manner......... I was too shocked when such a massacre happened right here in our streets. From then on I decided to have no more truck with them. I stopped seeing or talking to them.
The poor Sri Lankan Tamilians first had to suffer at the hands of Buddhist Sinhalese, Government of Sri Lanka and its army and then their own movement committed atrocities against each other to the extent they did little for the true cause. India was helpless. Or was it? I for one wish India showed some spine and had decisively acted to make an impact.
Fast forward to 2011....
Tamil National Alliance leaders are
meeting
US & UN officials in America. A UNRIC
report
laments the bloody past of a beautiful island. Alan Keenan, Senior Analyst and Sri Lanka Project Director for the International Crisis Group (ICG) says:
We need an open political structure in Sri Lanka. The president and his two brothers control all the most important ministries and around 75 % of the national budget. This is not a positive scenario for addressing the damage done to Sri Lanka's political institutions from decades of war and terror. Equally worrisome, there are no signs the government is especially interested in addressing the political marginalization and grievances of minorities by including Tamils and Muslims equally in political life, not only nationally but locally. And if they are not interested in correcting the mistakes of the past, their policies risk sowing the seeds of future conflict.
The Sri Lanka Broadcasting Corporation sees it
blames it all on LTTE supporters
. It is the bad luck of Sri Lanka, that LTTE chose to be the champion of their cause. Every sane group or individual, on hearing the name of LTTE steps back and stops talking about Sri Lankan Tamilians. Ironically LTTE helped the Sinhalese more than the Tamilians. Sad.
An attempt made by few western countries to appoint a Human Rights commissioner for commonwealth countries was ended up a in a failure due to strong protest staged by majority of members including India and Sri Lanka. At the commonwealth meeting representative of those countries pointed out that such an appointment would lead to interference of internal affairs of member countries. The attempt made by some pro-LTTE elements to discredit Sri Lanka was also failed. Majority of members have extended their support to Sri Lanka and praised the country's economic growth following the end of terrorism.
While others see the attempt to set a Human Rights Commission as
Western Imperialism
and considers Gaddafi was a friend in need. While a whole lot could be written about USA and UK and their hypocrisy, Libyan Dictator and Sri Lankan Army make strange bedfellows. Sri Lanka cannot cite Libya, UK and USA's actions and inaction and excuse itself of its treatment of fellow citizens and its own war crimes.
It would be recalled and must never ever be forgotten that when the sanctimonious affluent western nations such as United States and Great Britain strained every nerve, muscle and fibre of their beings to prevent us from liberating our country from the cancer of terrorism by starving us of funds – i.e. by preventing the IMF from giving us the standby facility of some US $ 500,000,000/-, it was Gadaffi who came to our aid by offering us money. It was only thereafter that the IMF agreed to give us that facility.
On the other hand, a couple of days ago, there was joy in certain quarters that the
noose tightened
on
Rajapaksa:
Colonel Qaddafi appeared to be a saint compared to President Mahinda Rajapaksa and how he would extricate himself from the mess he embroiled himself into, only time will tell
Gaddafi and Sri Lanka's ties did not go unnoticed after Gaddafi's death. Media compared China's muted response to Sri Lanka's demand for an explanation. GoSL's stance on its own human rights was pointed out.
Gaddafi was a close friend of the government of Sri Lanka and of President Rajapaksha. One of the last politicians to have a photo opportunity with Colonel Gaddafi was President Rajapaksha's heir apparent, his son and M.P. Namal Rajapaksha.

Only a few countries condemned the killing of Gaddafi in such a cold blooded manner. The government of Sri Lanka, although it did not condemn the killing, called for an explanation of his death. A number of government ministers have condemned the killing. Issuing a statement consisting of 21 words in one sentence, the government of Sri Lanka said: " "The Government of Sri Lanka is of the opinion that the circumstances surrounding the death of Colonel Muammar Gaddafi require an explanation."

This statement is commendable especially in the context when even a country like China, which has been a stronger supporter of Gaddafi and his government, issued a more muted statement. The statement by China's foreign ministry said: 'Gaddafi's death marks the turning of a page in Libya's history.' China also called for a rapid launch of an inclusive political process to find unity in the country, and the launch of economic restructure, to make its people live peacefully and happily.

The statement of the GOSL is indirectly calling for an inquiry into the incidents which led to the death of Gaddafi. A proper explanation can only be possible after an impartial inquiry. Here we can see that the GoSL is of the same opinion as Human Rights Watch and Amnesty International. Both organisations issued strong condemnations of the killing and called for a proper investigation and justice.

Both these organisations have called for such investigations regarding the alleged killings that had taken place in the last phase of the war with the LTTE in Sri Lanka. They have provided evidence of individuals killed while in detention. One such case is that of the Eastern province LTTE leader Colonel Ramesh. The video footage of Ramesh being questioned by Sri Lankan military personnel, and of his dead body, is available even on the internet. A number of wives of former LTTE leaders came before the Lessons Learned and Reconciliation Commission of the government and said that their husbands surrendered themselves to the military; their whereabouts are unknown after that. The Sinhala language newspaper Divaina reported that a number of LTTE leaders were in military custody and printed their names. (The newspaper later retracted the story.)
While the West and Sri Lanka fight on, India stands doing not much for a country that is practically in its backyard. I think it is India's wishy-washy stance that emboldened the Sri Lankan government to commit atrocities against Tamilians. Well, it would be germane to ask "What should India have done?" My answer: "Something different from what it did." India cannot be blamed, but dil mangtha hain more from; if India could not have influenced Sri Lanka, little could other countries do. And if India had been little more active, the 'Evanjihadists' influence on the Tamil groups could have been controlled. Or probably not. We would never know.
Buddhism stands along Islam as another religion of peace. I am positive Buddha would be greatly troubled, and maybe we can lay all the fault at Asoka's feet for spreading Buddhism in 'Ceylon'.
Labels: Sri Lanka, Tamilians, War Crimes